Gone are those days when people would easily enhance their phone storage by having SD cards. One of the reasons for this is newer phones with larger in-built storage, but cloud storage is also one of the reasons SD card technology is obsolete.
Dropbox is one of the disruptive cloud storage that lets you store everything from photos to documents. However, many people ask for Dropbox alternatives when it comes to cloud storage. And today, we have come up with top picks that are alternatives to Dropbox. So let's get into it.
1Google Drive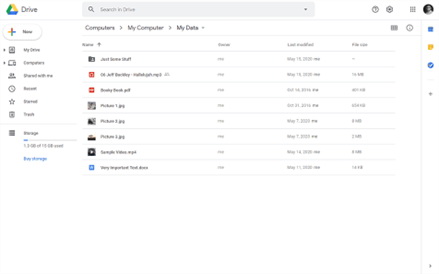 Google Drive is one of the most popular, convenient, and free cloud storage for individual users and businesses. It comes with many productivity features and is cloud storage with over a billion users worldwide. The biggest benefit of Google Drive is quick syncing with other software of Google like Gmail, Google Docs, etc., with a single Google account.
The main features of Google Drive are as follows:
The main features of Google Drive are as follows:
15 GB of free storage is enough for individual users
Excellent syncing with other Google software and Google Workspace
Collaborate with teams easily
Unlimited storage for photos(discontinued)
Easy to manage file sharing with one or more people
Link sharing is also available
Pricing
Google Drive offers 5 different plans that can be chosen depending on the users' needs and requirements. Here are the plans:
● 15 GB is the free Plan
● 100 GB for $1.99 per month
● 200 GB for $2.99 per month
● 2 TB for $9.99 per month
● 2 TB for 99.99 per year
Supporting OS
Android, Windows, iOS, macOS.
Pros
Convenient to use and easy to manage files
Syncing and integration features are great
Cross-platform compatibility
No Ad customization is made with your files
Encrypted and safe access
Cons
Limitless storage is not an option even for business users
You must have a Google account
No direct file sharing option from Drive to Drive
2OneDrive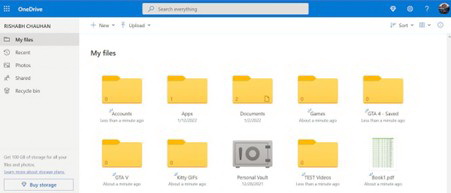 Windows OneDrive is also a popular name for Windows users, and we can safely call it the best option for Microsoft Office users, whether for personal or professional use. OneDrive is an alternative to Dropbox that uses a basic cloud storage model and has a lot of excitement regarding plans.
Here are the main features of OneDrive:
You can store personal & sensitive data in Personal Vault
Security measures and data encryption is great for avoiding spam or suspicious attempts to access data
Easily store and share data
Complimentary subscription of Microsoft Office with 1 TB plan
An all-in-one app for cloud storage, file sharing, and management
Offline access to entire folders on your mobile devices
Pricing
● Free 5 GB for photos and other files
● $1.99/month for OneDrive Standalone
● $69.99/year for Microsoft 365 Personal
● $99.99/year for Microsoft 365 Family
Supporting OS
Android, Windows, macOS, iOS
Pros
Easy to store and access files offline as well
Excellent integration of Microsoft native apps
Personal Vault for sensitive data
Advanced sync technology syncs files across all platforms
Cons
No unlimited storage plans
The free plan is prone to ransomware and spam
3iCloud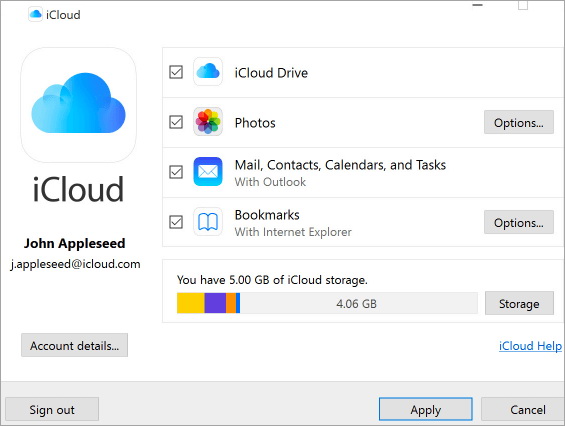 iCloud is a Dropbox alternative for individuals, businesses, or anyone who is a user of the Apple ecosystem. Whether you are an iPhone user, iPad user, or own a Macbook, iCloud is the most practical solution as a cloud storage one can ask for. Data security, integration, file sharing, and everything is packed in iCloud.
The main features of iCloud are as follows:
File storage(photos, documents, mail, calendars, etc.) in one place
Integration with native apps like calendar, email, etc.
Multi-platform compatibility
Password protection is available to provide higher data integrity and security
Pricing
● Free plan with 5 GB storage
● iCloud+ with 50 GB: $0.99 per month
● iCloud+ with 200 GB : $2.99 per month
● iCloud+ with 2 TB: $9.99 per month
Supporting OS
iOS, Windows, and macOS.
Pros
Multiple file format storage
Easy to use interface with great user experience
Native app integration
Advanced file sharing options
Cons
Non-apple devices are a struggling area for iCloud
Privacy might get compromised
Expensive than Dropbox
4AirDroid
AirDroid is also a tool that offers Dropbox-like services but in a different way. Many people want cloud storage for easy access to files on any device or when they want to move files from one place to another, and that's what AirDroid does. Cloud storage is not needed as an intermediary when using Dropbox alternative free.
The main features of AirDroid are as follows:
File transferring and sharing remotely
Cross-platform compatibility makes it accessible from any device or operating system
Hyper-fast technology for file transfer and syncing
Share all formats of files, be it photos, videos, documents, audio, contacts, messages, etc.
Free-to-use app for all operating system
Additional features like screen mirrors, remote control devices, collaborating, etc.
Pricing
● The basic version is free
● Premium is for $3.99 per month
● Check for business plans
Supporting OS
Android, iOS, Windows, macOS, web-based
Pros
Easy to use the app with easy file sharing
Wireless file transfer
Hyperfast technology
Security features to keep your transferred data secure
Cons
There is a file size limit for the free version
5Sync.com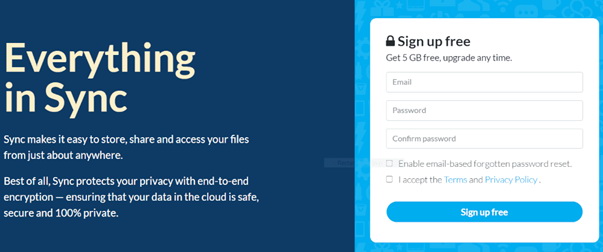 Sync.com is a great alternative to Dropbox that you can use if data security and encryption are your biggest concern about cloud storage. You can keep your cloud storage data safe for personal or business purposes. Whether you want to store photos, documents, images, movies, or other files, you can do it with Sync.com.
The main features of Sync.com are as follows:
Store all kinds of files with excellent data encryption
Online access to files is available
Intuitive file sharing over the web without user registration
Collaboration with others with password protection, expiration, notification, etc.
Pricing
● The basic plan is free with 5 GB of storage
● Solo Basic is 2 TB for $8 per month
● Solo Professional is 6TB storage for $20 per month
● Team Standard with $6 per month for each user against 1 TB storage
Supporting OS
Windows, Android, macOS, and iOS
Pros
Privacy data security and encryption
5 GB free storage
More affordable packages
Cons
The user interface is not the best one
Syncing across devices is slower
6Box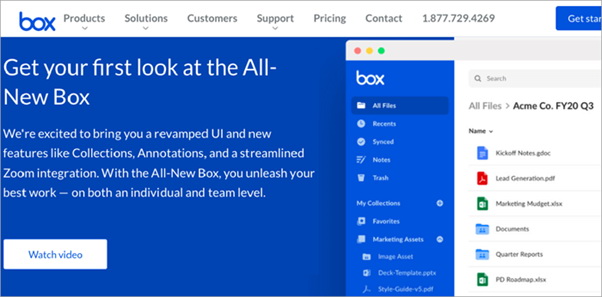 The Box is also a popular alternative to Dropbox and cloud storage, often used by professionals and personal users. Indeed, it won't be wrong to say that it's the best cloud storage for business users. The file management tool provides you with more advanced features than Dropbox and many other cloud storages with excellent encryption.
The main features of Box cloud storage are as follows:
Store files of all formats
Built-in task manager and note-taking
Integration with apps like Office 365, Google Workspace, etc.
Zero-knowledge encryption available to premium users
Pricing
● 10 GB for free
● Starter with 100 GB for $7 per month
● Personal Pro with 200 GB for $14 per month
● Business with unlimited storage for $20 per month
● Business Plus with unlimited storage for $33 per month
● Enterprise with unlimited storage for $47 per month
Supporting OS
iOS, Android, Windows, macOS, web-based
Pros
Advanced security features to keep sensitive data secure
Unlimited storage options are available
Multiple language support
Cons
Expensive plans as compared to other
Desktop sync might not be up to the mark
Basic user interface
7Mega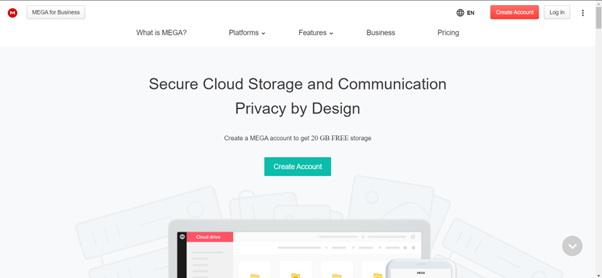 Mega is yet another alternative to Dropbox that is free. It offers excellent security and privacy features, as well as file syncing. Mega comes with several features and massive amounts of storage and collaboration features.
The main specs of Mega cloud storage are as follows:
Cloud file storage with zero-knowledge encryption
File sharing and collaboration through link sharing or email sharing
Affordable prices with tons of storage
Free plan with 5 GB storage
Syncing and integration with other apps
Pricing
● Free plan with 5 GB storage
● Pro Lite is $5.07 per month with 400 GB
● Pro I is $10.15 per month with 2000 GB
● Pro II is $20.32 per month with 8000 GB
● Pro III is $30.48 per month with 16000 GB
● Business(3 TB) per month with 3000 GB
● Business(10 TB) per month with 10000 GB
Supporting OS
Windows, macOS, Linux
Pros
Better storage options with affordable pricing
Encryption and data security at their best
File syncing and sharing
Cons
Collaboration features are not available
The user interface can be improved
Expensive as compared to Dropbox
8pCloud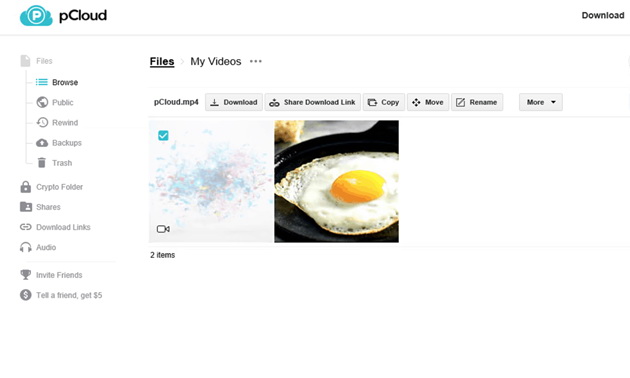 pCloud is also a Dropbox alternative with a generous amount of free storage in the basic plan. pCloud drive offers you file storage without downloading any app on your device. Besides, cloud storage also has an offline access feature for files.
Other features of pCloud are as follows:
Intuitive file management and storage
Hyperfast file download and upload size
Unlimited size of files and supports different file formats
File sharing and syncing across platforms
Excellent data security and encryption features
Pricing
● Free plan with 10 GB storage
● Premium plan with 500 GB storage for $4.17 per month
● Premium Plus with 2000 GB storage for $8.33 per month
● Custom plan is 10,000 GB storage for one-time $990
● A business plan is 1000 GB storage for $9.99 per month
Supporting OS
Android, iOS, Windows, macOS, ChromeOS
Pros
File syncing and sharing features are excellent
Integration with an in-app media player for on-spot media playing
Offline access is available
The user interface is interactive
Cons
You can turn on encryption, but for premium packages, only
Document integration is not available
Comparison
Software Name Free Tier File Size Price Compatibility Google Drive 15 GB for free 5 TB Start from $1.99 Windows, Android, macOS, and iOS OneDrive 5 GB for free 250 GB Start from $1.99 Windows, Android, macOS, and iOS iCloud 5 GB for free 15 GB Start from $0.99 Windows, Android, macOS, and iOS AirDroid Unlimited 200 MBs $3.99 Windows, Android, macOS, and iOS Sync.com 5 GB for free 40 GB Start from $8 Windows, Android, macOS, and iOS Box 10 GB for free 250 MB for personal users and 5 GB for business users Start from $7 per month iOS, Android, Windows, macOS, web-based Mega 5 GB for free Unknown Start from $5.07 Windows, macOS, Linux pCloud 10 GB for free 5 GB Start from $4.17 Windows, ChromeOS, Android, macOS, and iOS
Conclusion
We have shared 8 Dropbox alternatives you can capitalize on for storing files, sharing with others, or enjoying other collaboration features. However, if you want a solution that lets you transfer data wirelessly and without the internet, AirDroid is the best alternative to Dropbox. With no file transferring limit, you can share data across devices without any limitation of the operating system or speed restrictions.
FAQs
1. How much is Dropbox storage free?
You can get only 2 GB of free Dropbox storage. Therefore, switching to other alternatives is always a good idea if you are a free user.
2. Why is Dropbox not syncing?
You must check the sync status of files in Dropbox. To fix the syncing problem, you can check the syncing file status against the Dropbox icon in the Windows taskbar. Go to System Preferences > Security and Privacy for MacBook and make sure sync is on.
3. How much Dropbox space do I have?
The available space depends on the chosen plan, and you can check the available space by tapping on the account icon > settings > Account Menu > Plan > Remaining Space.
4. Which is better, Dropbox or Google Drive?
Both cloud storages have their own pros and cons. Therefore, giving a conclusive statement is not possible. However, if you are looking for more free storage, Google drive is a winner.